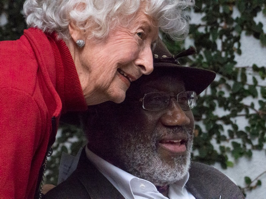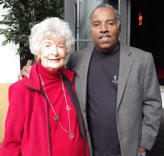 The Los Angeles Jazz Society thanked its members with a "free to members" Capitol Records jazz mural viewing and Cinco de Mayo celebration on May 5th at the Lexington Social House in Hollywood, with the artist, Richard Wyatt, who was in attendance to talk about the mural. (Left – Flip Manne with Richard Wyatt; Above – Flip with Bill Henderson)
Members and guests enjoyed the Latin rhythms of bandleader, vocalist and master percussionist, Louie Cruz Beltran, and his group, which had people up and dancing throughout the afternoon.   A special highlight was having guest, Bill Henderson, treat everyone to a song, which brought everyone in the audience to their feet.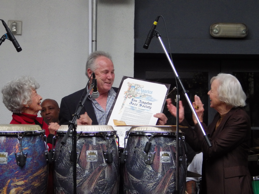 An enthusiastic fan of Louie's, Councilmember Tom LaBonge, provided a generous donation to the event and presented the Los Angeles Jazz Society with a Los Angeles City Resolution celebrating our 30 years, which was signed by the Mayor and every City Councilmember.
The event was held next door to the Capitol Records Building on the patio of the Lexington Social House, one of the fine restaurants in Hollywood.  Junella Chin, the owner, shared in the costs, provided delicious hors d'oeuvres, and handed out restaurant coupons to everyone.  Some people stayed and dined on the gourmet food in the restaurant.  The restaurant features jazz on Wednesday evenings.

In addition to the Lexington Social House and Councilmember, Tom LaBonge, the Jazz Society was joined as partners in the event by Paramount Pictures andCorniche Entertainment, Inc., (right- Anastasia Mann, Chairman/ CEO with Louie Cruz Beltran)  who represent Louie. They were all presented with a beautiful photo of the mural taken by the great jazz photographer, Bob Barry, which was autographed by the artist, Richard Wyatt.
---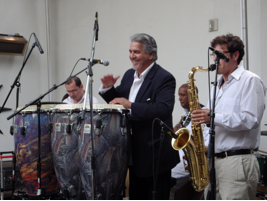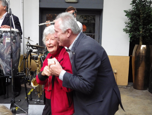 Flip Manne & Tom LaBonge; Elaine & Dave Koonse
(**Image at top** Flip Manne with Bill Henderson)