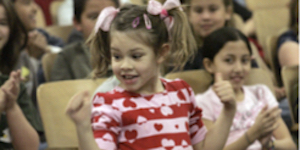 but your valentines for 'Love of Jazz" are welcome throughout the month…and beyond! And, your donation, no matter how large or small, will also enter you in the drawing for 2 tickets to the Jazz Tribute Awards & Concert in the fall of 2015.
Most organizations send an end-of-the-year request for donations.  We like to give our friends a chance to express their appreciation of jazz and what the Jazz Society is doing to help keep it alive with an annual Love of Jazz Valentine request.  If you haven't already sent your gift, there are still a few days left in February.  Your donation is fully tax-deductible and supports our important jazz eduction programs.  And, we Thank You for your Valentine.
Dear Friends of Jazz,
February is the month:
– When over 20,000 young elementary school children are exposed to the joy of jazz with free exciting, interactive Jazz in Schools concerts presented by the Los Angeles Jazz Society.
– When 20 aspiring young jazz musicians are participating in the Jazz Society's Bill Green Mentorship Program where they receive three months of training in advanced music techniques from professional musicians individually and in five group workshops.
– When the Jazz Society makes a once-a-year appeal to members and friends to help 'keep jazz alive' by sending a 'love of jazz' Valentine Gift to the David L. Abell Jazz Education Fund to help fund these important jazz education programs.
Why are our jazz education programs important?
If you care about the future of jazz – and we know you do – these programs are important because jazz is withering away .  Not only is the audience shrinking, but it's growing older fast.  Young people today are not listening to jazz and with little or no music in schools, they are not even exposed to the music.
The Los Angeles Jazz Society is dedicated to preserving this great American art form and that is why we have made it our mission to bring the vibrant rhythms and sounds of jazz to young people with a goal of creating future audiences.  Students who have experienced a Jazz in Schools concert tell us:  
"I wish I could hear your music over and over again." 
"I just signed up for saxophone lessons."  
"I never knew jazz could be so cool."
Teachers tell us that their students are totally engaged during the performance and remember everything afterwards.  Many ask to hear jazz in their classrooms. We frequently get the comment that "this was the best assembly I have ever seen."
Our Mentorship Program boasts an impressive roster of graduates.  Many are performing musicians in local clubs or continuing their jazz studies in colleges throughout the country.  It is part of our mission to identify and nurture jazz musicians of tomorrow and you may have witnessed the remarkable achievements of some of these young musicians at our annual Student/Mentor Band Concert held for graduates at Catalina's Bar and Grill March 29th.
We invite you to be a partner in our mission.  For the love of jazz, please send your Valentine Gift today and support our jazz education programs.  100% of your gift goes directly to the David L Abell Jazz Education Fund.  
$1,000 provides a full scholarship in the Mentorship Program
$1,500 provides two free concerts in an elementary school
WE WELCOME ALL GIFTS….NOTHING IS TOO SMALL!  
Each Valentine Gift says, I Love Jazz.  Please send your gift to:
LA Jazz Society, "I LOVE JAZZ",
5903 Noble Ave., Van Nuys CA 91411
Or visit our website at www.lajazz.org
Thank you for your generosity and we wish you a HAPPY VALENTINE'S DAY.
Sincerely,
Flip Manne, President
P.S.  To show our appreciation, your name will be entered in a drawing for 2 tickets for the 2015 Jazz Tribute Awards & Concert.